Explore! Discover! Live!
We are a home away from home
Explore! Discover! Live!
We are a home away from home
Explore! Discover! Live!
We are a home away from home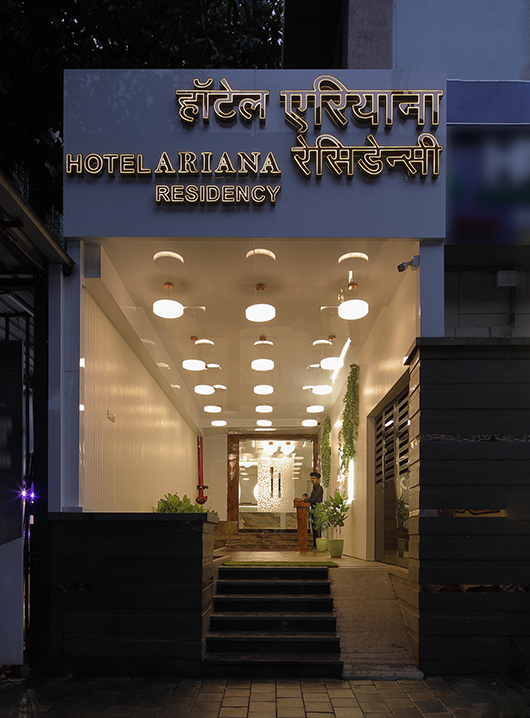 We stay in this moment of time, knowing it holds the fulfillment we seek. We are fully alive in each moment of our magnificent journey with our guests.Our joy comes from ensuring each is seen and valued as a person, a friend, a family member who has come to stay. It 's present in every gesture through words spoken or unspoken, in ways that are obvious and in ways that are quietly respectful of one's time and privacy.
'Hotel Ariana Residency' starts on 01.08.2022 which stands seven storeytall with 32 rooms, 1 banquet and 1 In-house restaurant.
YOUR COMFORT IS OUR PRIDE
All the rooms have been furnished with a blend of style and functionality in mind. Exceptional combination of magnificent architecture and divine cuisine in perfect harmony. It features rooms with a Smart LED TV and 24 – hour room service. We're more than just a room.
A TASTE OF HOME – PARADISE ON YOUR PLATE
The jewels in the crown of Hotel Ariana Residency have one restaurant for our in house guest which is famous and well patronized pure vegetarian restaurant. Esteemed guests are welcomed to relax and unwind in a quiet and elegant seating. Life is too short for boring food So, At Ariana residency we not only serve food but add of personal touch to give all its patron a memorable time. Delight in every bite. Delicious jumping into the mouth, so chase the flavors.
We produce our breads and cakes from natural ingredients, love and passion.
Ravindra Gajjar
This is one of the upscale properties in Andheri West with room, banquet and restaurant facilities under one roof. The rooms are very well furnished and have an attached bath with hot and cold water, king size bed, in room climate control air conditioner, 24 hour room service and host of amenities that a business or family traveler looks for. The management is quite professional and manages the business with personal interest and involvement. The tariff is very good when compared with the room size and amenities. The hotel is quite near the metro station and the famous Kokilaben Dhirubhai Ambani Hospital. A good hotel worth visiting.
Divya Tewari
The hotel was very conveniently located, and the rooms were fairly large in size. I was given a free upgrade as well, which was great! The staff members were all very polite and courteous.
Sanjay Nakra
Exceptional courteous staff.. Rooms spic and span. V v prompt services.. Everyone in the staff was very friendly and v warm. Bless them all.
Alfaraz Laique
Had a great experience at the hotel. The staff was friendly, the room was sanitised and properly maintained. Recommended.
Ranjan Bortamuli
It is an awesome place to stay in a prime location in Mumbai. Rooms are very good and service is also up to the mark. Overall a great place to stay.
Parveen Shaikh
Food was really tasty and good. Service was amazing 🤍🤍....... infrastructure is awesome 🥰🥰... I had my lunch on the terrace which was a beautiful experience here .... Must to visit 👌🏻
LET US MAKE THE PLACE SPEAK
We believe that a Banquet hall is where memories shine, and a Place that builds relations. We have equipped conference-cum-banquet function venues that can easily accommodate 50 to 70 people. Enjoy a genuine experience of leisure, pleasure, gastronomy and wellness within the premises of the hotel. We are definitely the most ideal choice to be made. We have lots of designs and ideas … just choose what you like .We integrate with your events perfectly.
We will there to guide you in each and every step of the journey of enhancing your manhood.